Dear Stitching Friends,
Happy Friday and welcome 2019! A portion of the Flash Crew has been out in warm and sunny Tucson celebrating their Mom's 80th birthday so it's a real short one today.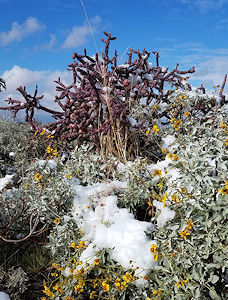 Actually, not so warm. Seems they brought some of the Michigan snow with them so it felt just like home
Stoney Creek's January 2019 Pattern of the Month, which is now being offered for
FREE
throughout January, highlights the new entries at
http://www.stoneycreek.com
which also include Jeannette Douglas, Mirabilia, Needlework Press and Plum Street Samplers.
We'll back next week with a full edition.
As always, Thank You for being the reason Stoney Creek is in business and for keeping your enthusiasm for all things needle and thread. Have a safe and relaxing weekend!
Stoney Creek
4336 Plainfield Ave Suite H
Grand Rapids, MI 49525

(800) 243-1410
xstitch@stoneycreek.com